Band Name: Abugida
Team
Ruphael Woldemariam
Yared Abraham
Ermias Kebede
Aberra Alemu
Tewodros Aklilu
RUPHAEL WOLDEMARIAM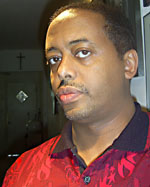 Ruphael had the aspiration to play drums from an early age, when he was about Twelve years old he decided to build his own drums from tin roof (korkoro), using Pictures to guide him, and rehearsed with it every day after school, until he joined Dallol band at age fourteen. The band played at stereo club and later on at Etege Hotel with the leadership of Menilik Wossenachew. Ruphael joined the Wabe Shebele Band in 1978 and worked there for two years with Aster Aweke, Alemayehu Eshete, Wubeshet Fisseha and Petros Mekuria as singers. He also toured with Ayalew Mesfin in Ethiopia at the young age of fourteen. After moving to the USA in 1980, playing with Dallol. In 1987, the band started touring with Ziggy Marley and the melody Makers. Ruphael played drums on two albums, conscious party and one bright day, And both albums won Grammy , and he received gold record plack for the first album. Later on he was one of the founders of GIZZAE BAND in Chicago, along with Dereje Makonnen and Asrat Aemro-Sellassie. He joined TEDDY AFRO, and ABOGIDA BAND in 2006, and And have toured the world with them, and continuous to do so at the present time. Ruphael is also a painter….you can see some of his work on, WWW.RUPHAEL.COM.
---
Yared Abraham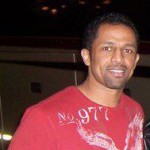 Born in Addis Ababa, Ethiopia Yared was exposed to both traditional and modern Ethiopian music from his early age. He attended his high school in the United States where he continued his music lessons. Yared continued to develp his musical talent and subsequently went on to study computer based music recording softwears. While attending college, Yared started to perform as a one-man band at various clubs and restaurants. Ever since then his music career has taken him across Africa, US, Europe and the Middle East where he performed with various Ethiopian artists like Aster Aweke, Mohamoud Ahmed, Theodros Tadesse, Hamelmal Abate, Ephrem Tamiru and so on…
Yared is currently on tour with Abugida Band as a keyboard player.
---
Ermias T Kebede Bio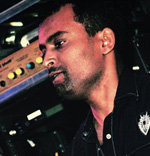 Picked up the guitar at St. Joseph High school in Addis through the persuasion of a best friend, Teddy Shawl, and that began his on going love affair with music. He joined the high school band of his batch which started his first exposure to live band music. He continued college in US where while studying computer science further immersed in the live music scene playing for several bands differing in genre from funky jazz to reggae. The exposure of Bob Marley's music made a big impact in finding out his musical preference. All though he enjoys and plays all kinds of music the rhythms of reggae seems to have made the most influence, so much so that after college living in Chicago, he produced his first instrumental album called "Mystic Groove", primarily inspired by the reggae beat. While in Chicago Ermias joined a reggae band called BAARO which was started by Mulu Gessesse, member of both Dallol and Ziggy Marley's band. He spent about 5 years with BAARO playing reggae throughout the Midwest in venues ranging from small bars to big outdoor festivals. Addis Gessesse who is the brother of Mulu knew about BAARO and when he signed up to manage Teddy Afro, quickly decided to put the two together. Fikru Gessesse( drums), Aberra Alemu(guitar), and I( bass) joined Nebiyu Legesse( keys) to create the first Abogida Band. Since then Abogida Band has evolved to what it is today with Ruphael(drums) and Yared(keys) touring and recording with Teddy Afro. Ermias T Kebede currently resides between Chicago and Addis Ababa involved in live performance and music producing. Music and info available at www.cdbaby.com/cd/ermias2
---
Tewodros Aklilu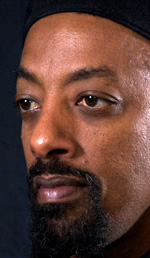 Tewodros Aklilu is an Ethiopian musician residing in Chicago. He specializes in the 5 – tone [pentatonic] music of Ethiopia. The 5 – tone system, gives us some of the most widely used modes in our world.
In addition to offering clues to connections established in times past, there also exist
huge potentials in the use of those sounds for maintaining health and healing. Tewodros uses the keyboard (piano, electric piano, organ, synthesizer) as his main instrument.
In addition to; improvised sessions which occasionally get recorded, and even less occasionally result in original compositions, Tewodros enjoys explorations in the creating and recreating of harmonic arrangements for well known and obscure Ethiopian folk music.
His arrangements are often based on extensive exposure and experience in the music of our world [The African 'infinite well', Jazz, Afro-Cuban, Brazilian, Reggae, Near and Middle Eastern, as well as Asian (Far East and South Asian), Native American and ancient European folk forms (Keltic, Gypsy, etc).
His first performance experience was with a traditional troupe in the 4th grade as a singer/dancer. Classically oriented piano lessons followed with Ato Teferra Mekonnen at age 11 (once a week for 2 years) at the Kidus Yared Music School in Addis Abeba.. In 1977, in the thick of the Ethiopian Revolution, like countless other Ethiopians of the period, Tewodros (with his whole family) left Ethiopia for life in exile, in the USA.
From 1981 to 1986, the embryonic Ethiopian music scene in DC was regarded as "a school" by Tewodros, where he played keyboards in several Ethiopian bands -(Gasha, Dashen, and Admas). With Admas, an instrumental LP – ADMAS – Sons of Ethiopia – was released in 1985..
In 1986, Tewodros moved to East Lansing Michigan where he was fortunate to have access to recordings of acoustic folk music from all over the African world. After learning the countless unexpected and incredible similarities in African music across cultures, Tewodros made a lifechanging decision to focus on the folk traditions of music, and has been there ever since.
In 1987, while on a trip to Ethiopia, Tewodros received an intensive six week private music instructions in traditional Ethiopian instrumentation (Begena, Krar, Masinko and Washint) and music theory under Ato Alemayehu Fanta at the Kidus Yared Music School in Addis Abeba.
After moving to Chicago in 1993, the depth and variety of the Chicago music scene provided Tewodros with opportunities to play with and learn under some extremely talented musicians, too many to name individually, but include – Ndiko Xaba, Mantuila Nyomo, Dereje Mekonnen, Rufael Wolde Mariam, Nicole Mitchell, David Boykin, Kwame Bedyako, Lenn Reid, etc. etc.
In 2007, during another visit to Ethiopia, Tewodros got a rare chance to study Ethiopian music theory under the late masinqo virtuoso – Ato Tatek Gebre Hiwot (who served for over 40 years in the National Theater Orchestra).
His latest collaboration with the group Magic Carpet represents a dream come true where in his words – "my love for: jazz, folk music [across multiple tonal systems and rhythmic patterns], reggae, blues and funk; music of – West, Central, South, East, North and North East – Africa; music for – dance, healing, meditation, ritual and trance purposes, – are all dealt with, incredibly within a group improvisation experimental framework". According to Tewodros – "Each member of the band comes from a different tradition, and brings that experience into the mix as we build each song".
Tewodros has participated in numerous educational workshops, and is available for -educational workshops, solo concerts, as well as private lesson